Network, socialize, engage in Ris' windowed salon in DC's West End. There will be happy hour specials all night throughout the restaurant. A welcoming place for all.
Past Events
What Great Male Mentors (for Women) Do: A Skill-Building Workshop: May 22, 2019 | 9:15 - 11:30 AM | Washington DC
In this workshop, you will learn about the elements of gender-inclusive mentorship, including several best practices for high-impact mentoring. Content includes: matters of relationship, professional growth, personal growth, and thoughtful awareness of things not to do.
This session also provides specific "how to" recommendations for leaders committed to partnering to support others' career development.
Who Should Attend: This workshop is for men at all stages of their careers who work in the global development sector. Participants are welcome from advisory firms, NGOs, private sector, foundations, government agencies, multilaterals and academic institutions.
Workshop Leaders
In addition to teaching at leading U.S. universities, Brad Johnson and David Smith are the co-authors of Athena Rising: How and Why Men Should Mentor Women (2016).
Women of Color Happy Hour Event: March 13, 2019 | 4-6:30p | Washington DC
The WILD Network and Black Women in Development are hosting a Happy Hour to bring together women of color working in global development to share experiences and discuss challenges and strategies for creating inclusive environments in the workplace. Key takeaways from this discussion will feed into the content of the 2019 Forum to Advance Women's Leadership in the Global Development Sector.
Co-Chairs of this event:
Stephanie Oueda Cruz, Head of Gender, Diversity and Inclusion at IDB

Frantzie Saint Juste, Senior Project Manager, Chemonics

Sanola Daley, Global Women's Employment Lead Manufacturing, Agribusiness and Services at IFC International Finance Corporation

Stephanie A. Kimou, Founder, Population Works Africa and Black Women in Development network

Nana Apenem Dagadu, M&E Advisor, Reproductive Health, Save the Children
Anyone who identifies as a woman of color working in international development in the Greater Washington, D.C. metro area is warmly invited to participate!
Please take a read of the deck that resulted from this event - click below.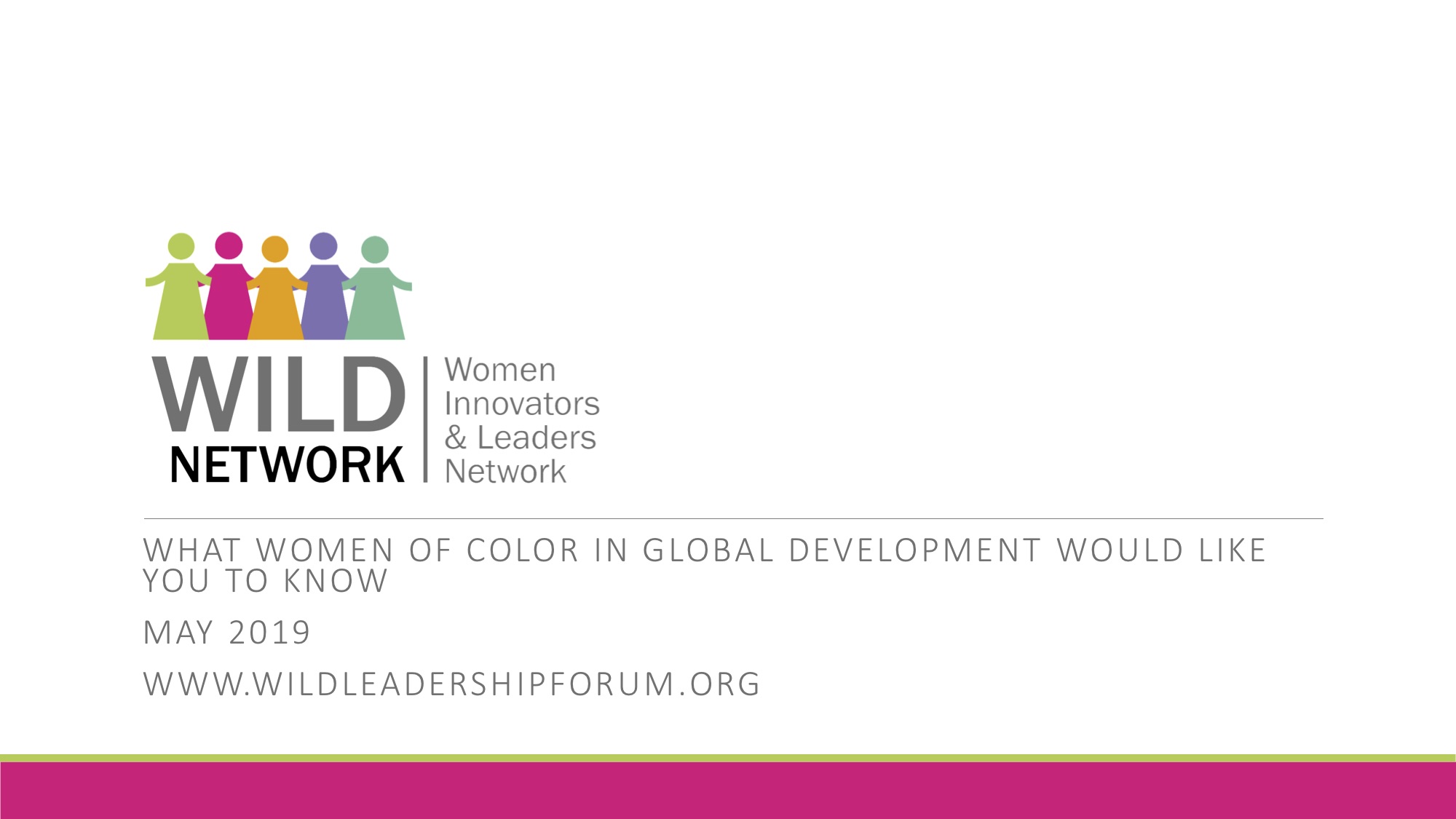 WHAT WOMEN OF COLOR IN GLOBAL DEVELOPMENT WOULD LIKE YOU TO KNOW
The observations in this deck align with a number of other studies looking at the experiences of women of color in the workplace. But because the deck speaks specifically to the global development sector, and the realities that we and our colleagues deal with every day, we at WILD believe it will be especially impactful.